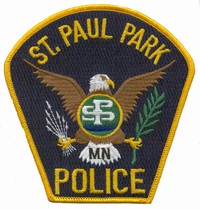 ---
MISSION STATEMENT
It is the mission of the members of the Saint Paul Park Police Department
to protect
the lives, property, and rights of the citizens of Saint Paul Park while
enforcing laws
impartially and
maintaining our honor and integrity.
---
The St. Paul Park Police Department is responsible to provide police service to the citizens of St. Paul Park and Grey Cloud Island Township. We are a full service law enforcement agency, providing service seven days a week, 24 hours a day. Police dispatch is provided by the Washington County Sherriff's Department and can be contacted at EMERGENCY - 911 or NON-EMERGENCY (651) 439-9381.
We work closely with Newport, Cottage Grove and other local police departments as well as the Washington County Sheriffs Department, Minnesota State Patrol, Minnesota Bureau of Criminal Apprehension, Minnesota Division of Emergency Management/Homeland Security, and other county, state and federal agencies, to provide our citizens with exceptional police service and emergency response.
Click on the Links Below to Learn more.....