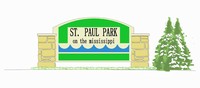 This section of our web page has been designed to aid you in the development and remodeling of our community, whether your project is small or large.
Under this section you will find six main areas:
Building Permits--This section you will find information about doing the work yourself, hiring a contractor, planning your project, project handouts, permit applications and inspections.


Zoning Information & Verification--This section contains information for citywide zoning rules by classification and regulations, overlay districts, setback, area, parking, sign, landscaping, and screening regulations.


Economic Development--This section will tell you the goals the City has for good economic development of the city, as well as any grants available.


Develop Opportunities--This section you will find development opportunities throughout St. Paul Park.


New Developments--This section will keep you informed of the ongoing, approved, and proposed developments within the City.


Current Projects--In this section you will find projects on the agenda for this year.